Posts for tag: gum disease
By Transcendental, LLC
May 09, 2020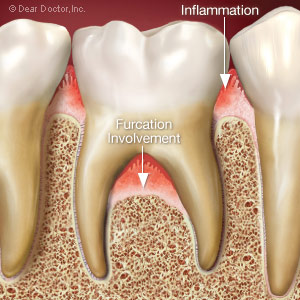 Periodontal (gum) disease often involves more than gum inflammation. The real danger is what this bacterial infection may be doing to tissues beneath the gum line—including tooth roots and supporting bone.
Gum disease can do extensive damage to the forked areas where the roots separate from the main tooth body. If one of these areas, known as a furcation, becomes infected, the associated bone may begin to diminish. And you may not even know it's happening.
Fortunately, we may be able to detect a furcation involvement using x-rays and tactile (touch) probing. The findings from our examination will not only verify a furcation involvement exists, but also how extensive it is according to a formal classification system that dentists use for planning further treatment.
A Class I involvement under this system signifies the beginning of bone loss, usually a slight groove in the bone. Class II signifies two or more millimeters of bone loss. Class III, also called a "through and through," represents bone loss that extends from one side of the root to the other.
The class of involvement will guide how we treat it. Obviously, the lower the class, the less extensive that treatment will be. That's why regular dental checkups or appointments at the first sign of gum problems are a must.
The first-line treatment for furcation involvements is much the same as for gum disease in general: We manually remove bacterial plaque, the main source of infection, from the root surfaces using hand instruments and ultrasonic equipment. This is often followed by localized antibiotics to further disinfect the area and stymie the further growth of the furcation involvement.
We also want to foster the regrowth of lost tissue, if at all possible. Classes II and III involvements may present a challenge in this regard, ultimately requiring grafting surgery to stimulate tissue regeneration.
The best approach by far is to prevent gum disease, the ultimate cause for a furcation involvement. You can reduce your chances of gum disease by brushing and flossing daily to remove disease-causing plaque. Regular dental cleanings and checkups, at least every six months, help round out this prevention strategy.
A furcation involvement could ultimately endanger a tooth's survival. We can stop that from happening—but we'll have to act promptly to achieve the best results.
If you would like more information on treating gum disease, please contact us or schedule an appointment for a consultation. You can also learn more about this topic by reading the Dear Doctor magazine article "What are Furcations?"
By Transcendental, LLC
May 10, 2018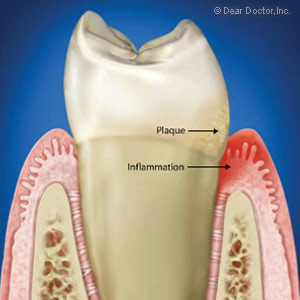 Today, many people are taking positive steps to reduce the risks posed by major health problems like cancer, cardiopulmonary diseases, hypertension, and diabetes. But there's one disease that makes the top-ten list of worldwide health conditions, and yet isn't thought about as much as many of the others. That malady is severe periodontal (gum) disease — and according to a new study, it's the sixth-most prevalent health condition in the world.
The study, released by the International and American Associations for Dental Research, reveals that some 743 million people around the world — about 11 percent of the global population — suffer from severe periodontal disease; that percentage hasn't changed significantly since 1990. The study also shows that while an individual's chance of developing this condition rises gradually with age, there is a steep increase in people between 30 and 40 years old, with a peak at age 38.
If severe periodontal disease is such a major concern, why isn't it "on the radar"? A 2010 report from the U.S. Surgeon General, titled "Oral Health: The Silent Epidemic," gives some clues. For one thing, diseases related to oral health don't always produce dramatic symptoms: Even tooth loss, for example, is sometimes (wrongly) regarded as an inevitable consequence of aging, when it's more often the result of disease or injury. For another, these conditions disproportionately affect people whose voices aren't always heard: children, the elderly, and the disadvantaged.
Severe periodontal disease is clearly a challenge to the public health. But what can you do as an individual? Plenty! The good news about periodontal disease is that it is largely preventable, and very treatable. Prevention is chiefly a matter of maintaining good oral hygiene.
Have you flossed lately? Is your brushing technique up to snuff? Do you avoid sugary snacks and beverages (especially between meals), and visit your dentist for regular checkups? If so, you've taken some major steps toward preventing periodontal disease. But despite their best efforts, it is difficult for some people to control periodontal disease without extra assistance. That's where a periodontist can help.
Periodontists are concerned with treating problems of the gums. We use a number of methods to combat periodontal disease — including removing plaque bacteria, restoring healthy tissue, and educating people about how to maintain better oral hygiene at home. Your general dentist may refer you to a periodontist if warning signs are noticed, but you don't need a referral to come in for an exam. If you notice the symptoms of periodontal disease — redness or inflammation of the gums, a bad taste or odor in your mouth, or any amount of bleeding when you brush — then it may be time to have your gums checked.
If you would like more information about periodontal disease, call our office for a consultation. You can learn more in the Dear Doctor magazine article "Warning Signs of Periodontal (Gum) Disease."
By Transcendental, LLC
January 24, 2016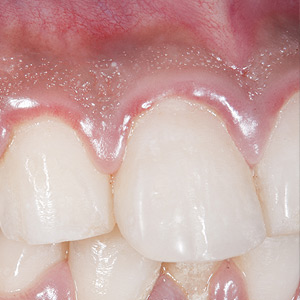 Periodontal (gum) disease is mainly caused by bacterial plaque built up on tooth surfaces due to ineffective oral hygiene. For most cases, treatment that includes plaque and calculus (tartar or calcified plaque) removal and renewed daily hygiene is highly effective in stopping the disease and restoring health to affected gum tissues.
However, you might have additional health factors that may make it more difficult to bring the disease under control. If your case is extreme, even the most in-depth treatment may only buy time before some or all of your teeth are eventually lost.
Genetics. Because of your genetic makeup, you could have a low resistance to gum disease and are more susceptible to it than other people. Additionally, if you have thin gum tissues, also an inherited trait, you could be more prone to receding gums as a result of gum disease.
Certain bacteria. Our mouths are home to millions of bacteria derived from hundreds of strains, of which only a few are responsible for gum disease. It's possible your body's immune system may find it difficult to control a particular disease-causing strain, regardless of your diligence in oral care.
Stress. Chronic stress, brought on by difficult life situations or experiences, can have a harmful effect on your body's immune system and cause you to be more susceptible to gum disease. Studies have shown that as stress levels increase the breakdown of gum tissues (along with their detachment from teeth) may also increase.
Disease advancement. Gum disease can be an aggressive infection that can gain a foothold well before diagnosis. It's possible, then, that by the time we begin intervention the disease has already caused a great deal of damage. While we may be able to repair much of it, it's possible some teeth may not be salvageable.
While you can't change genetic makeup or bacterial sensitivity, you can slow the disease progression and extend the life of your teeth with consistent daily hygiene, regular cleanings and checkups, and watching for bleeding, swollen gums and other signs of disease. Although these additional risk factors may make it difficult to save your teeth in the long-run, you may be able to gain enough time to prepare emotionally and financially for dental implants or a similar restoration.
If you would like more information on the treatment of gum disease, please contact us or schedule an appointment for a consultation. You can also learn more about this topic by reading the Dear Doctor magazine article "Periodontal (Gum) Treatment & Expectations."